Storage Units, Now With Space to Cook, Relax and Entertain
Traditional industrial park-style storage facilities are giving way to customized spaces with kitchens, reclaimed wood and stylish seating areas.
By Candace Jackson
March 3, 2016 12:42 pm ET
Gourmet kitchens. Indoor basketball courts. The newest place for luxury amenities isn't at your home: It is in your storage unit.
As the top end of the real-estate market boomed in many cities, a parallel market for high-end storage appeared as well. Fort Lauderdale, Fla.'s RoboVault, which offers a biometric fingerprint-access security system and an automated robotic parking section, says revenues are up 80% since 2013. In California, Garage Unlimited of Monterey is targeting car collectors with its 46 units, each with a mezzanine. The units went on the market in August asking as much as $626,000 for 2,700-square-foot spaces.
Far from the traditional industrial park-style facilities, these upscale alternatives can boast outdoor spaces, windows, decks overlooking ponds and trees, or lounges for socializing. Inside, climate-controlled rooms have the infrastructure to be customized with kitchens, bathrooms and other homelike amenities, so owners can relax and entertain guests while hanging with their stuff.
Shane Garrison, a 46-year-old executive at a commercial real-estate company, purchased a 3,000-square-foot storage unit in Iron Gate Motor Condos in Naperville, Ill., last May, spending roughly $400,000 to buy and build out the three-story space. He added an indoor basketball court, kitchen, car lift, two bathrooms and arcade games. Mr. Garrison also worked with an architect to design his place with a 30-foot-high reclaimed barn wood wall, polished concrete floors and an iron staircase. There is even a deck for outdoor grilling.
The idea was to build a place where his wife and their 7-year-old and 5-year-old children could hang out with him while he tinkered with his​cars, a diverse collection he rotates through the space that includes a 1978 Porsche 930 and a Chevrolet Chevelle. "If you're a car guy, you'd like somewhere to put them, and then you think about that and your family," he says. "You don't want it to be binary where you're just there and the kids are at home."
For others, it's more about creating the ultimate man cave. "While everyone checks their egos at the door, these guys really one up each other as far as finishing out their man caves," says Mark Karolich, a Naperville, Ill. accountant who keeps four of his Porsches in his Iron Gate unit. Purchased for $134,000 and finished for another $50,000 to $60,000, it includes a reclaimed wood wall, a mural of the Breckenridge Gate, a kitchenette and a stone-tile bathroom.
Tom Burgess, the developer of Iron Gate, says he opened the facility in 2014 and is currently constructing the fifth of 12 planned buildings. Prices for raw spaces start at $129,000, and go up to about $450,000.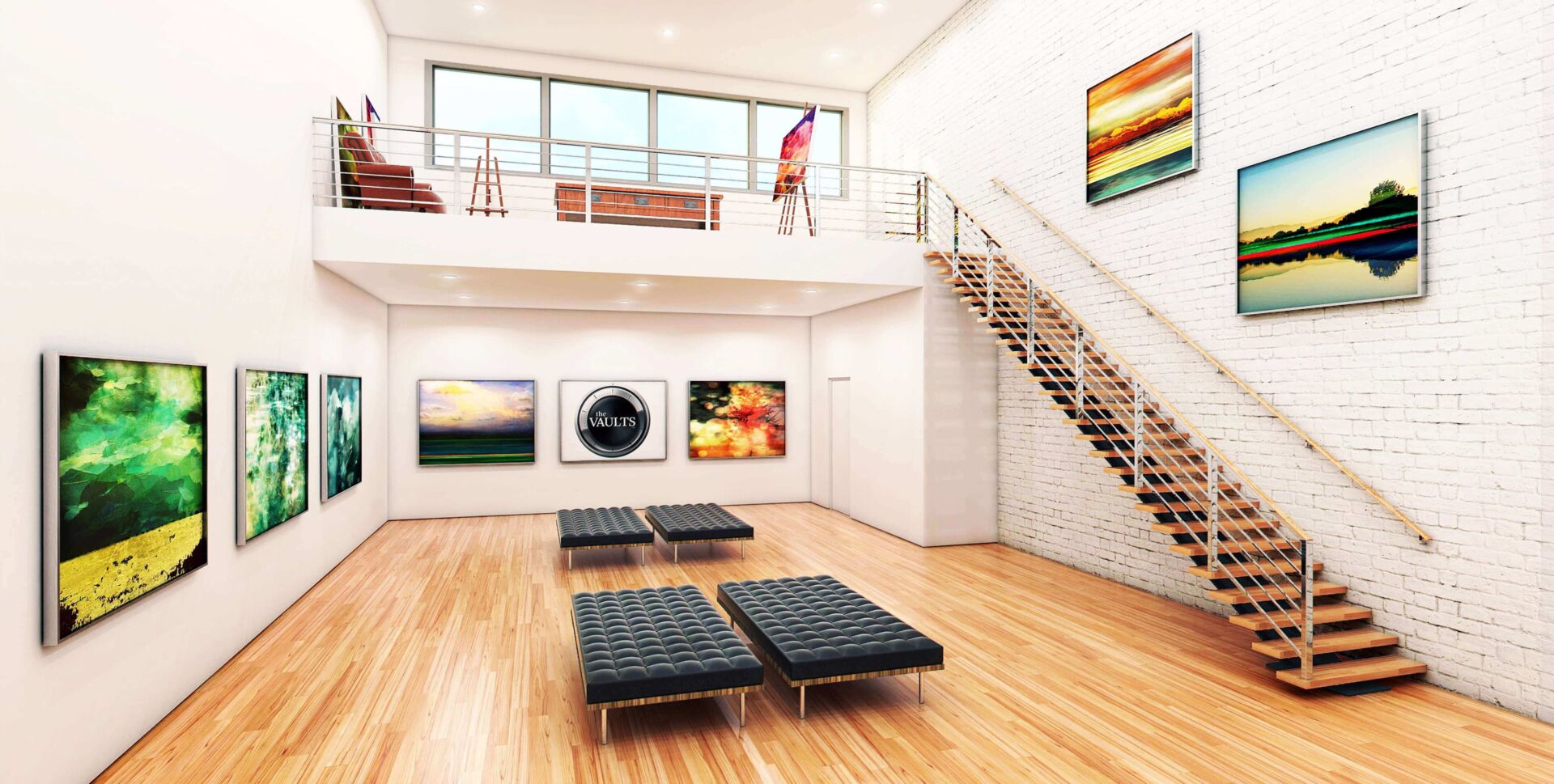 Developers say the luxury storage boom in some urban areas has been partly prompted by more affluent homeowners moving into smaller homes in dense, walkable neighborhoods—and giving up the generous garage and closet space of suburbia. "People are making their lives simpler," says James Murray, whose Calgary-based project the Vaults is pitching two-level storage spaces with 24-foot ceilings for prices ranging between $245,000 to $484,000. They "don't have the space to store those vehicles or the luxury RV."
That was also the thinking behind the storage at the Fitzroy, a 14-unit condo building under construction along the High Line in New York's Chelsea neighborhood. The building will include customizable climate-controlled storage rooms as large as 220 square feet, with 12½ foot ceilings, on the amenity floor. Developers are pitching them as "hobby rooms" with renderings that show the spaces customized with stylish seating areas or recording or art studios that also include storage. There is one allocated for every condo unit, which average around 3,000 square feet in size and are priced between $5.2 million to $20 million.
Another draw for some storage owners is the ability to create something entirely their own. "This is probably the one place in terms of a residence or a place of ownership where a guy can actually decide what the fittings are going to be," says Bruno Silikowski, who developed AutoMotorPlex in Chanhassen, Minn. ​
AutoMotorPlex has 146 "decorator-ready" units, including 11 that come with underground wine cellars. Mr. Silikowski says original prices ranged from $150,000 to $400,000 but many buyers have purchased multiple units and combined them, with a couple spending above $1 million including finishes. The facility is sold out, with a wait list, and Mr. Silikowski estimates that resales have appreciated anywhere between 40% to 100% since opening. He's currently working
Mike Karch, who works in security systems, has a collection of about 35 cars, including several crime fighting-themed vehicles like a replica of the Scooby-Doo Mystery Machine van and a Batmobile autographed by Adam West, who played Batman in the 1960s TV series.
Designed in a vintage Mobil gas station theme, Mr. Karch's AutoMotorPlex unit, purchased for $180,000 about four years ago, stores seven cars and has a large kitchen from which he and his wife regularly host dinner parties. A couple months ago he purchased a second unit right next door, priced at $220,000, which he is now in the midst of combining with his original unit to get more entertaining space and additional storage for six more cars.
Both AutoMotorPlex and Iron Gate position themselves almost as country clubs for collectors, giving enthusiasts the chance to bond over their hobbies. After storing his car collection in a typical "bare bones" storage facility, Michael Blum, an attorney at a medical device company, purchased a 2,240-square-foot car condo at AutoMotorPlex and spent roughly six months finishing the space in a sleekly modern, colorful style. It now includes a big-screen TV, a laundry room and several cars.
"I was looking for a more social experience with club programming where you would have an opportunity to meet other owners," he says. He now attends regular events like the monthly Cars and Coffee gathering, drive-in movies, charity events and the semiregular "cave crawls" where owners open their condos to visitors. His storage space also came in handy professionally: He practiced law out of the space for about a year while working remotely.
On the other end of the spectrum are facilities that offer white-glove pickup and delivery, so customers never have to visit the storage facility at all. Leslie Modell, a real-estate agent in New York, stores about 50 to 75 pieces of off-season clothing at Garde Robe, a luxury textile-storage company. For $350 month the company stores a "rack" of about 50 garments, 10 pairs of shoes and a large box for accessories like handbags and belts—and delivers items locally on demand.
Doug Greenberg, the co-owner of Garde Robe, says the company employs graduates from top fashion schools. "It's like having a personal assistant who is totally knowledgeable about garment care," he says. Based in New York, the company added a Florida office three years ago and opened another facility in San Diego in 2010. Last year, they added an Australian location.
Ebaa Alawaji, who lives in New York but also splits her time between Greenwich, Conn., Paris and Saudi Arabia, uses Garde Robe to store her furs, off-season clothing and designer gowns. She can use her iPad to keep track of her pieces, each of which Garde Robe professionally photographs, and order up to three items with 90-minute guaranteed delivery in New York when she needs them. Once, she requested several items to be delivered to Paris and the company, for the cost of travel expenses, had someone fly them over personally.
Ms. Alawaji, who works in fashion, says she has lots of closet space at home, but likes that in addition to storing her clothes the service takes good care of them, repairing her boots and cleaning garments before they're returned to her.
"If there's a stain I never paid attention to, they'll fix it," she says.
Write to Candace Jackson at candace.jackson@wsj.com
Article Link:  https://www.wsj.com/articles/storage-units-now-with-space-to-cook-relax-and-entertain-1457026958